About Me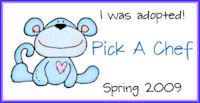 I am a stay at home, homeschooling mom to three wonderful children. I also have a terrific, hard-working husband that I made the good choice to marry on September 21,1991.
One cat and two dogs complete our happy family!(Update,sad to say that our wonderful cat died a few weeks ago.We will miss her dearly!) I love to cook and try new recipes. My DH's only request when we married was that I not fix the same things over and over.
I guess I get the most requests for my vension dishes.DH has hunting friends that will give us their venison if I will fix it for them occasionally. I love to fix mexican, chinese, italian. Love to experiment. I spend at least an hour a day on Zaar. I get up early and read the reviews from the day before to see if there are any interesting recipes that I haven't seen yet. I also love to read the new recipe listings.
DD(11) loves Zaar and gets so excited about reading new recipes and she always reminds me to rate the latest one we've tried!! She wants to have her own Zaar account soon! Whole family has to give their rating at the dinner table if I say this came from Zaar. DS(10) Loves to rate the recipes and sometimes says this one should be a 10 or a 50! DD(8) thinks Zaar recipes are a standard way of life! She has her own little rating scale!
Dh also likes to rate the recipes but he will usually just say "this one's a keeper" or something to that affect!
Can you tell that we all love to eat??
Favorite Foods
Vension, Mexican, chinese, basically anything!!!
---
Over 475,000 Recipes
Food.com Network of Sites