About Me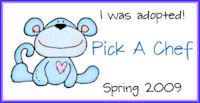 I was born in Detroit, Michigan and moved to Miami, Florida in 1976. I moved to Franklin, NC at the beginning of 2005. I now run my own land development company. My "fun" interests include reading (science fiction mostly), movies and television (again, I love sci fi), cooking (and eating it, but need to go on a diet (LOL), collecting 60's music, and watching my children grow.

My all time favorite cookbook is the Betty Crocker Home cookbook. I've gone thru 2 copies and need to buy a third. Most of my cookbooks were inherited by my ex-wife which is a shame since she can't really cook very well. I had a great Hungarian cookbook that I've never been able to replace when I lost it to Hurricane Andrew in 1992.
Favorite Foods
Anything Hungarian, and most of everything else there is to eat. My mother brought my brother and I up to eat at least 1 tablespoon of everything on the table. We ended up liking a wider variety of food in that manner.

I cook a large variety but my favorite dish to cook and eat is Chicken Paprikas the way my Grandmother made it. The recipe is available here. I don't have a favorite restaurant. Restaurant eating is expensive and I worked in a few when I was younger so I know what goes on in the kitchen. I can eat better food more sanitarily prepared at home. When I do eat out it's never the same place twice, too many places, too few meals out.
---
Over 475,000 Recipes
Food.com Network of Sites