About Me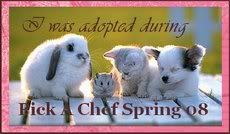 I work with coffee and love all food. I live in a area with lots of fun and interesting restaurants but I enjoy making my own inventions instead. In my spare time I research new recipes and use my husband, David, as my guinea pig, he doesn't mind.
My favorite cookbook of all my collection is Rachel Ray's first one, "30- Minute Meals". I love her passions and tastes for food and try to use that philoshpy in my own life. And i'm a Food Network Junkie, :).
Favorite Foods
My favorite foods vary between Italian and French Cuisine but I will try almost anything once. My favorite food to cook is White Clam Sauce with Linguine, light salad greens and a good glass of wine. Yum! My favorite restaurant is The Red Tavern in Chico, CA.
---
Over 475,000 Recipes
Food.com Network of Sites