About Me
This is my sweet dog baby, Scout, with her summer cut-Only a mother could love those big ears. I am the business mangager for an interior design firm here in Memphis, and no, I have never been to Graceland. But, it is on my to do list!

I grew up around a lot of great southern cooks and my mother allowed me to cook and experiment in the kitchen from a young age (as long as I was not under foot). Did I mention that my mother was a caterer the last 15 yrs of her life? On my 7th birthday my favorite aunt let me fry an egg all by my self for the first time. It was my first taste of cooking and I was hooked. At age 10 a family friend gave me my very first cookbook (a Betty Crocker cookbook for kids). In my high school home econ class my friends nicknamed me Betty Crocker, (I was secretly proud).

One of my very favorite cookbooks is the 1988 edition of the Memphis Junior League Party Potpourri. Whenever I travel I love to go to used book stores and seek out regional cookbooks. I especially like old/vintage fundraiser cookbooks from churches and home economics chapters, as well as Junior League cookbooks. I think you tend to get a true cross section of a community that way.

I love to read cookbooks for pleasure, as well as just about any other kind of book. I think in a past life I was a fish, because I love to swim. I also volunteer around town. If I were to hit the lottery tomorrow I would travel, go back to school just for the sake of learning, go to culinary school, and use my powers for the greater good.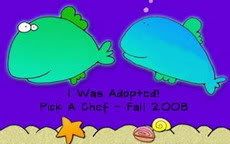 Favorite Foods
I love southern comfort foods, but Indian is my 21st Century comfort food. I absolutey adore casseroles with a can of cream of something soup in the ingredient list. Mexican and Vietnamese and Thai are tops too. I don't like foods tongue & lip numbing hot, so I usually order food mild to medium. A little heat will do thank you. I like flavorful spicy, not heat for the sake of heat spicy. I also love sushi. Cheese, butter, garlic, ginger and dark chocolate are a few of my favorite things, I don't feel so sad when a recipe includes one or more of these ingredients. I also love toast (who knows why, maybe because you can top it with so many things).

I love to cook and prepare everything from simple flavorful foods to tackling complex recipes. One of my favorite simple summer menus is to pan sear thin cut boneless pork chops and serve with mashed sweet potatoes and garlic sauteed fresh whole green beans. My friends most often request one of my chicken stuff recipes. I also love to make beautiful, tasty desserts. Boss and co-workers actually impressed with desserts @ last year's Christmas party. Co-worker suggest I could be pastry chef, but heard that all the great pastry chefs have hands that are cool to the touch. She deemed my hands too hot to the touch. Who knows.......

As far as restaurants, I love everything from fine dining to undiscovered dives with great food. I especially love to eat out at breakfast or brunch. I love to try new versions of eggs benedict. Memphis has so many great restaurants. If you ever find yourself in Memphis a few of my favorite resturants...
burgers....Hueys; Thai....Sawadii; Thai/Vegiterian...Jasmine; Caribbean fusion...Automatic Slims Tonga club; Vietmanese...Pho Saigon; Japanese-French fusion....Umi; incredible deli/Greek sandwiches....the Kwik Check (convenience store next door to Umi); breakfast...Bro. Juniper's;Memphis institution-French Chateau/Provencal...Paulette's; pub food...Young Ave Deli; all around funky decor/great food...The Beauty Shop; sushi...Sekisui; fish/seafood...Blue Fish; Italian..any Grisanti's restaurant--all of these are mid range $$-$$$. For fantastic $$$$ steak...Folk's Folly. Fortunately I can personally recommend all of these.....and I could probably go on and on
---
Over 475,000 Recipes
Food.com Network of Sites