About Me
Hey all!!
My name is Amanda. I would have to blame my love of all food on my childhood. I grew up in the Air Force and we moved around alot. I was able to experience different parts of the country as well as different parts of the world. I am not a picky eater and will pretty much try anything! That is why I love Recipezaar! I can get everything that I am looking for in one place.
I am blessed with a wonderful son that I am so proud to say will eat just about anything and loves to try new stuff. The only things that he will not touch is potatoes and tomatoes, so I am always looking for new ways to cook those so he will eat them.
I am married a wonderful man who just happened to be in the Air Force. He however is picky. Thankfully, not as picky as he was when we met.
I love being in the kitchen, except when it comes to cleaning. My husband is the worlds best seux chef. I love cooking and baking and Recipezaar helps with all of that!! Thank you Recipezaar!!!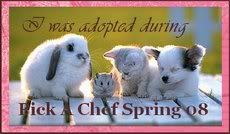 Favorite Foods
I have a very wide range of favorite foods. I can never just pick one. It can be anything from Gnocchi to Delhi Curry.
---
Over 475,000 Recipes
Food.com Network of Sites