About Me
I love to cook which is why I'm a recipezaar junkie! It is so great to have all the recipes I want at my fingertips.

I've been married to my amazing husband for five years and have been blessed with twin boys. I am fortunate enough to be a full time mommy and spend every moment with my amazing babies. When I'm not experimenting with recipes at home, we love to dine at all the great restaurants here in Hawaii. Whenever possible we try to get to the beach for our sunset barbeques. The picture posted was taken in front of his grandmother's beach house in Hau'ula. How lucky are we?

Update 02/06/08: My husband & I have relocated to Alabama. My military man is stationed at Ft. Rucker & attending flight school. Though we are soo far from our family & home I'm loving it here. I do miss the fresh island fish and the local farmer's market. We have definately embraced the food of the south. It's a culinary adventure & I'm enjoying the ride.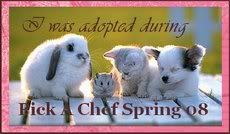 Favorite Foods
It would probably be easier to list the food that I don't like! Soggy noodles, mushy rice, mayonaisse and milk are just a few. I have a thing about mayonaisse...too much is a meal breaker! Oh yeah chocolate gives me headaches! My husband will eat an entire chocolate bar if not more...go figure!

I do like to eat! I most love the food of my heritage and I'm of mixed breed (haha!) My mom makes the best filipino food, my grandmother is famous for her pasteles, not to be outdone by my mother in law who makes delicious chinese and hawaiian food.

Some of my favorite restaurants:
Helena's...The best hawaiian food & pipikaula
Alan Wongs...Hawaii regional cuisine at it's best
Nick's Fishmarket...opakapaka & the ahi poi pounder
Manana Garage...Guava ribs, lobster ceviche, yum!
Boots & Kimo's...Pancakes w/macadamia sauce & killer omelettes
Soul de Cuba...Picadillo, camarones bailando, empanada de guava y queso
Pop's...raw oysters, fried pickles & an icy cold Black & Tan :)Yum!
---
Over 475,000 Recipes
Food.com Network of Sites