About Me
I live in MI with my family and am always on the lookout for new tasty recipes that even my toddler will like. He loves meat and pasta, most fruit and is getting better about veggies. I cook every meal 7 days a week, with the occasional lunch or dinner out (very occasional!) but I love cooking so it's not a bad thing to me.

I am a big sweets eater and recently got an ice cream maker so I have been whipping up lots of ice cream. My favorite so far has been Ben and Jerry's heath bar crunch, it's so creamy and only lasts 2 days in this house! Other baked goods and homemade bread are favorites too, though not much bread gets baked in the summer.

I hate doing dishes! We are currently house hunting and a dishwasher is a must (we don't have one right now). Luckily my dh is pretty good about helping out with the dishes :)

I know it seems like I give lots of good reviews, but there is a good reason: I know what we like, so I pick dishes I think we will like, and often we do. If i give a review of a recipe with no stars it's because I think I did something wrong usually so that's why it didn't come out right. Or if something has excellent ratings and I don't like it, I don't want to ruin that, because obviously I didn't like something, but that's not a refection of the actual recipe!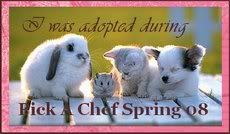 I dislike when people don't make the recipe correctly and give it a bad review. Ok, if you change one or two small things, fine, but if you make major changes, not ok. And when people give a bad review because it was good, but not what they are looking for? Sorry, but I don't get that. YOU picked it, if it tastes good but wasn't what you were looking for, not the recipe's fault :)
Favorite Foods
I have a wide variety of foods and haven't come across many I hate. I love asian, mexican and italian, though going to a good greek restaurant is often my choice when we go out.

I don't like raw onion, but wish I did because I know it adds flavor and is in so many things. I usually omit it and might add a dash of onion powder.

I am famous in my family for carrot cake. Everyone always requests that one! Also my caramel pecan brownies are a hit whenever I make them and friends tell me to call them when I am making them so they can come by. Chicken enchiladas is another one everyone loves, but that is a recipe I took and adapted from a family friend so not all of the credit can be taken there!