About Me
Everyone loves my cooking and I used to do cooking shows. I would like to again someday. I have some great ideas, just no time at this season in my life (raising kids, home schooling, teaching at a private school, etc.) I get tired of the day to day cooking, but love to cook for special occasions. This site helps motivate me to creativity and happiness in the daily cooking I must do.
In a perfect world: I would take turns with another awesome chef cooking fabulous meals, we would live near or on the ocean just playing, cooking, eating, enjoying the water, sand and sun.
My family and I just recently switched to eating mostly kosher (I still will mix meat and dairy on occasion, but no shellfish, pork, dirty stuff) and so I'm once again learning many new recipes.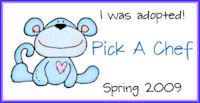 Favorite Foods
Indian, Mediterranean, Mexican, Southwestern, Greek, Italian, Fusion, etc.
---
Over 475,000 Recipes
Food.com Network of Sites