About Me
I am a recipe addict. I just wish I had enough time to make all the recipes I collect. I love trying new recipes and my family loves eating them.
My husband is a volunteer firefighter and first responder. I'm a stay at home Mommy of two beautiful little girls named Kaylie (Sept 2008) and Emalie (May 2010). I also have a third baby on the way (June 2012).
In an attempt to be more healthy and get in better shape, we eat a lot of vegetarian dishes and do not eat red meat.
I take part in CSA, so I will need good recipes to use up the farm fresh organic food baskets I receive weekly.
Since my daughter was born (Sept 2008) I have eliminated most of the processed and artificial foods from my families diet. I am making as much from scratch as possible. I try to use a lot of organic and local products.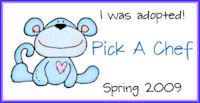 Favorite Foods
I love everything dairy. I love yogurt, milk, eggs, and cheese. I live right near an amazing cheese producer. I also love fruit. My favs being peaches, berries, melons, necterines, plums, pineapple and bananas. Every once in awhile I really want chocolate.

My husband loves everything breakfast, especially eggs. He is also a big fan of curry, potato salad and mac & cheese. If I make a healthy dessert or anything with fruit, he thinks he can have as much as he wants.
---
Over 475,000 Recipes
Food.com Network of Sites