About Me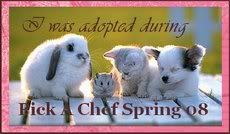 I live on the edge of the Dallas / Fort Worth metroplex. The town I am in has less than 6,000 residents yet I am only a 20 minute drive from Whole Foods and Central Market. We also have an abundance of Indo-European and Oriental stores. All the great places to explore for all the unusual foods you see on cooking shows.

Central Market even has "famous" chefs giving cooking classes. I plan to take the Sushi making classes Spring 2003.

The only thing we need to make this area perfect is for Katz Deli from Houston to open a place right around the corner from me, their chopped liver is to die for. On the same corner a great Mystery book store like the Murder by the Book they have in Houston.

Then if the local restaurants would learn how to cook better I would be in Seventh Heaven. Gee, am I opinionated or what!

I collect cook books, love to read, and I am planning on teaching myself how to sew in 2003.
Favorite Foods
I do enjoy all styles and cultures of cooking, but my favorites tend to be food that is cooked in a manner that highlights the primary ingredient and doesn't overpower it with too many tastes. For that reason, my favorite cooking style is Italian.

I think Vietnamese, Greek, Japanese especially Sushi), Dim Sum, and French cooking also work towards accenting, rather than overpowering, the food they are working with.

I also enjoy foods with a spicier style occassionally. Cajun, Indian, Mediteranean, Chinese, Thai, and Mexican... but I usually eat them at restaurants.

If I get stressed out... give me chicken-fried steak and mashed potatoes. That's what I think should really be known as the state dish of Texas.

I will try just about anything except for Brains and Swordfish. Don't ask, you don't want to know.

I did eat cow tongue prepared with a delicious green sauce once. My stomach and tastebuds were going yummy, but my head eventually won out and I stopped once the litany of... Tongue, Tongue, Tongue overcame my tastebuds.

I can't say I favor tripe either, but I will give it the good old "chewy" try.

Now liver, I have to say that is the food of the God's. Especially, chopped liver.