About Me
I am Cookiegirlandi because I was head cookie decorator for Cookies by Design/Cookie Bouquet for 6 years in SE MI.
DH and I bought a 2000sq ft greenhouse in 2004 and moved it up 160 miles north of our Oakland co home to our co-owners 10 acre cottage. Neighbors up here happened to have a place for sale and we bought it. We absolutely love it here. It is truely beautiful here, surrounded by nature. Sort of a shock to me at first--as I also worked as a nail tech in salons for 18 years and was used to shopping and dining out. Always had perfect hair, nails, tan, outfits, makeup. Sheez. Not anymore!! LOL!
So, now I am a homemaker/wife, artist, jewelry maker, golfer, perennial plant collector, supergardener/greenhouse grower, garden tender, (I have many gardens) mom to boxer and 3 wonderful rescue kitties! Busier than ever!!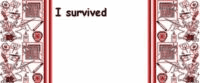 Working on updating this page=thanks for looking!!
Happy Cooking!
---
Over 475,000 Recipes
Food.com Network of Sites