About Me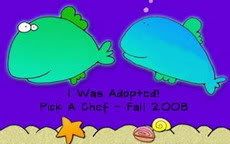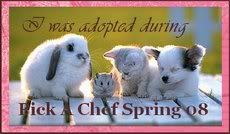 I am a payroll manager but in my next life I will definitely be a chef. I love cooking and especially trying new recipes.

I have been married for 32 years and when we were newly weds my DH encouraged me to cook even though we would drink Alka-Seltzer for dessert most nights. I thought because I watched my mother cooking when I was growing up that I could just ?jump in? and start cooking. That was not the case. Chris and I found out the hard way.

I have two little dogs Jake and Jillian. Jakie is a Japanese Chin and Jillian is a Pekinese. They are so adorable. They race from one end of the house to the other. Jake will watch for me from the front windows. The minute he hears the garage door he makes a beeline for the door with Jillian in tow. Such a nice welcome home at the end of the day.

About a year and half ago my friends and I set up a Dinner Club which consists of three couples. Each month one couple hosts a dinner party. The hosts prepare the main entr?e. The guests bring an appetizer and a dessert. The only rule is that all recipes must be new. Tried and true reicpes are not acceptable. This way we get to prepare recipes for friends that we may never have tried. We rate the recipes at the end of the meal and share copies with each other. This affords us a chance to get together without letting too much time go by.

Since joining Zaar a year ago I was adopted for the Spring 2008 Pick A Chef cookbook. Some of my recipes appear in the book. I am currently participating in the Zaar World Tour 4, visiting many countries and cooking a lot of foreign recipes along with my teammates. So far this has been very exciting. Again, trying new recipes that I would never have thought to cook has been amazing not to mention meeting people from around the world.

This is a wonderful site with so much going on. The recipes I have tried to date have been fabulous. All the members are so nice and helpful. I just renewed my Premium Membership and will revisit ?About Me? in a year to update.
Favorite Foods
Greek is my favorite. I married a man whose Mom was Greek. She was a wonderful cook and shared many Greek recipes with me. I am carrying on the tradition now that Elaine is gone and Chris is so happy that I make these wonderful dishes.

One of the best recipes that Elaine shared is "Dolmathes" stuffed grape leaves. I make a hugh pot of these and they only last a couple of days. It is only my husband and myself so that gives you an idea how good they are. Oh, I forgot Jake and Jillian also love stuffed grape leaves.

I also love Italian food and Mexican food. I will search food websites for these recipes and try them. So far it has been a lot of fun and yummy!
---
Over 475,000 Recipes
Food.com Network of Sites