About Me
PLEASE RATE MY RECIPES!! :)

My husband and I have been happily married for six years and we have two amazing children!
I stay home with our son and daughter and stay busy in with local mom's groups and activities. I am a certified childbirth educator (bradleybirth.com) and also teach and supervise the Aqua Aerobic department at one of our local gyms. I am somewhat of a health nut/hippee and distribute whole food suppliments (morganlovesjuiceplus.com), but I love to bake and to share my baked goods. There is no better compliment than when some one takes a bite of my very own Chocolate Chip Cookies and says they are the best they've ever tasted! (Sorry, it's a secret recipe!) I would love to open my own bakery someday...
I like to cook for my family too, and have become exceptionally motivated since our son was born. I have been finding myself getting swept away reading cookbooks (while the kids are sleeping). :) I am really enjoying trying new recipes (and so is my husband) and I think I am becomming a "Foodie" so Recipezaar is simply heaven for me!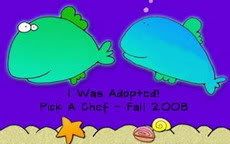 ?
?"|?Miracles in the Making Childbirth Education and Support
Favorite Foods
I always prefer to eat whole food as raw as possible...Watermellon and almost all fruits, veggies like zucchini, green beans, broccoli and squash. Red meat -YUM! I'm starting to get into different varieties of fish- they are so easy to cook! I love salads and soups and most health foods too.
---
Over 475,000 Recipes
Food.com Network of Sites