About Me
Hello there, my name is Ellie and I live and work in Birmingham, UK. I have just purchased my first home with my partner?so it?s a very exciting time for my right now!

I am a really fun, happy person (I think so any way!!) and don?t let to many things get me down ? life is to sort! Although the one thing that does get my back up, is when people think that because me and my partner are young (both under the age 25 at the moment!!) will live off take-ways and ready meals! It?s only because it could not be further from the truth! When I lived at home with my mum, I was brought up on home cooked food, as was my partner ? so it is something that I feel very strongly about. I shocked quite a few people when we first started living together, I know this seems a bit sad?but it made me feel so proud!!

At the moment me and my partner live in a rented home with are 2-year-old Staffordshire bull terrier. I cannot wait to get into our new house, and make it feel like home!!

I work as a PA and must admit I love my job! The people here are so friendly it?s a lovely pace to work, I really do think you have to enjoy your job otherwise theses no point?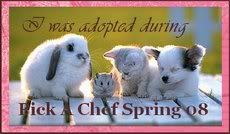 Favorite Foods
It?s so hard!!! To be honest I like anything with good flavours!! Although I do have a weak spot for Italian food! But like I say, I like most food groups. The only thing I can?t stand is celery, and I?m not to keen on mushrooms however I will eat then but not on there own, unlike celery that is a big no no!! But I really could not pick a favourite dish, there are so many to pick from!!!
---
Over 475,000 Recipes
Food.com Network of Sites