About Me
I just finished half of the Appalachian Trail, starting in Georgia and hiking to Harpers Ferry, WV, just over 1000 miles. I found a home in the Eastern Panhandle of West Virginia and am loving it.

Even though I spent the last 15 years as a programmer, website developer and graphic artist, I just landed a sweet job at a little cafe as a baker! I love it, and it's like not working at all.

Besides being a baker, graphic artist and web designer, I'm also a backpacker, animal lover, hiker, rock hound, reader, and mother of one beautiful child who's now grown. I enjoy growing my own veggies and herbs, cooking from scratch, and making my own bread. I like good music and good food. I especially like making good food to share with good friends.

I live with one dog named Haley. She hiked the trail with me and was a real champ. Unfortunately, I had to find a home for my cat. He wanted nothing to do with hiking!



Aren't they cute? Haley is 3 months older than Diego, so they pretty much grew up together. Haley's a good girl, yes she is. And Diego can hold his own quite well. I miss him very much, and so does Haley.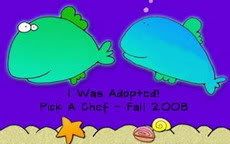 Favorite Foods
Favorite foods? There are a million! Ok, I'll narrow it down... At home: cheese and chocolate. Eating out: Mexican, Vietnamese, Japanese, Middle Eastern and Greek. On the trail: Some incredible something I made at home and dehydrated, or food from a favorite restaurant that I've dehydrated. That's just about the coolest thing in the world... to be sitting on the top of a mountain a thousand miles away from home and eating my favorite foods!