About Me
I am a stay-at-home-mom, or rather, drive-around-in-the-minivan mom to DS7, DD6, DD5 and DS1. DH is lactose intolerant so I have learned to work around that in my recipes. I started baking cookies and such when I was about 9, and cooking daily suppers when I was 13 so I have been in the kitchen for a good percentage of my life already. It's a good thing that it's my favourite place to be!


My favourite appliance is a rice cooker, with the Kitchenaid mixer running a close second. DH bought a Traeger wood pellet barbecue for Mother's Day a few years ago and it is amazing.

I almost always wear an apron in the kitchen because I'm a sloppy cook and stained too many shirts. My favourite is from www.ashtongreen.com, a Canadian website that sells great kitchen stuff.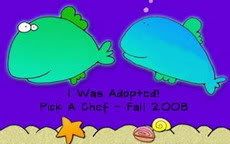 Favorite Foods
If I had to choose just one cookbook (oh, that's a sad thought), it would have to be Johanna Burkhard's 400 Best Comfort Food Recipes. I have given a copy to all my SIL's, my MIL, my mom, my sister because it is such a great everyday cookbook, and also so I can use it when I visit! Other favourites are Judith Finlayson's Slow Cooker cookbooks, Whole Grain Breads by Machine or Hand by Beatrice Ojakangas, Everyone Eats Well in Belgium by Ruth Van Waerebeek, The Ultimate Rice Cooker Cookbook by Julie Kaufmann and Beth Hensperger. For barbecuing, I love the BBQ Queens Big Book of Barbecue by Karen Adler and Judith Fertig. I always have several cookbooks out from the library and they are my bedtime reading.

I don't often eat out with three little ones, that's the thing I miss most about working in the city. If I do get to eat out, I love sushi, dim sum, Vietnamese, Greek or Italian.
---
Over 475,000 Recipes
Food.com Network of Sites