About Me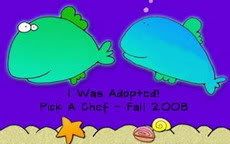 I like to bead and crochet a lot. A LOT. And hand-sew. Even though I have a machine...
Add to that, cooking.
Unfortunately, since I've developed the mess that's MS, I have developed a passion for all things HomeMade as it is something I CAN still do, and the rewards are immediate with culinary pursuits...it gets me up and on my feet, which is always a good thing.
Adventures in Yum continue, as I'm now vegetarian, leaning towards going vegan, open to the possibility of, but not restricting to vegan only. Just no meat, that's all. I still have eggs and dairy. I love dairy too much to give it up entirely!
Favorite Foods
I absolutely Adore:
Cheese
Garlic
Artichokes
Foreign Cuisines, at least I can still travel in my kitchen!!
a good muscat wine
My favorite restaurant is Reza's in Downtown Chicago...I've only eaten there once, and I will NEVER forget it...I'm still hunting for a passable dill rice and stuffed bell pepper recipe....(sigh)
I have won a few cooking contests, mostly at an old company I used to work for. The prize winners were
Potato Chip cookies
Artichoke/Spinach piroshki
Cottage Dill bread with Curry spread (That recipe's already on here!)