About Me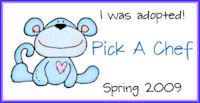 I cooked my first full meal for company at age 6. It was pretty basic (steak, carrots, and toast) but well received. I think I have my Easy Bake Oven to thank for getting me started in the kitchen. If I get a break from time to time, I really enjoy cooking and baking. My favorite holidays are Thanksgiving and Christmas, because that's when I go all out and make a big feast. (Plus I really love the time off from cooking afterwards with all the left-overs available.)

I own and run a bead and jewelry supply business from home. You can see my online store at http://www.suncountrygems.com.
Hubby and I live in the country in an alternative energy home, so power consumption issues keep me from having all the electric appliances possible. However, we are far from primitive (at least I have a microwave, slow cooker, food processor, and dish washer.) I cook with gas (propane) and really love it. We live at about 6,000 ft. elevation, so high altitude cooking is a way of life and a challenge.

When I was a teen, I wanted to be a chef when I grew up. I told my parents I wanted to go to college in Paris at the Cordon Bleu. They just laughed and said sure thing, just how are you planning to pay for it?

I ended up becoming a high school English teacher, but that was no fun at all for me. So, I floundered around a while, then ended up in the world of computers. For 20 years I helped build the information super highway. Then in 2000 I started my bead business. I did both for a while, then left that high-tech rat race for the poorer and quieter life of selling beads and jewelry supplies.

Cooking is something I enjoy sharing, but don't often have the opportunity to do so. Living in the country, so far from neighbors (nearest ones are over 1 mile away) it is seldom I get the chance. Hubby is my only guinea pig for new recipes, which I try often.

I'm trying to lose weight, so am always looking for really good food that isn't going to ruin that effort. I also try to find food that I can make in bulk then freeze for future days when I'm lazy.

Oh, and I also like to knit, crochet, quilt, and sew.
Favorite Foods
Chocolate (of course)
My favorite chocolate dish is a steamed torte made with semi-sweet chocolate chips. It's so rich, but oh so delicious. I make it only for the holiday dinners.

I also love custards, but rarely make them.

I dearly love a good stew, and make a variety of them often. The same recipe is seldom exactly the same, as I often will modify it to deal with what I have on hand or to try out an idea of an alternate ingredient.

I often try foreign food recipes. My most favorite is Chinese, but Mexican is very much a part of our regular fare, as the ingredients are readily available here in New Mexico. Lately, I've been trying East Indian food. I'm growing a curry leaf tree in my house to provide me with that ingredient, as it is kind of hard to get. The tree is very happy, but I have not yet harvested any leaves. (It smells kind of like rubber, so I'm a little hesitant.)