About Me
My husband and I just relocated from Texas to North Carolina for the first big adventure of our married lives. I recently finished my MSEd in Public Health and am waiting to see if I am accepted to a PhD program here in NC. My passions include: traveling, working with my church, painting, and of course cooking! And my addiction...reading food blogs.

I have recently been given the honor of organizing, deciphering, and compiling my great-grandmother's and great-great grandmother and grandfather's recipes into a famliy cookbook. If you have any expertise in this area I'd love to hear your tips.

With this, please note that those recipes that are noted as being from my great-grandmother are frequently merely a list of ingrediants, missing cooking time and temp, etc. I have not made many of these old family recipes, so if you choose to prepare them please help us all by posting the cooking info with your review.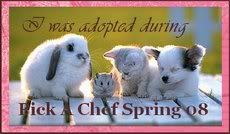 Favorite Foods
I love to experiment and try new recipes, but I am famous for my homemade oreos, cheese stuffed meatballs, chicken iskander, and pumpkin seed brittle.
---
Over 475,000 Recipes
Food.com Network of Sites