About Me
Hi there. I'm a 26 year old new Mommy. I have a wonderful son (born 6-3-2008), a 6 year old step daughter and amazing man in my life. I work full time plus some so I am constantly looking for quick and easy dishes that don't compromise on flavor. I try to eat healthy most of the time but I think everyone needs a treat now and then. I'm hoping to get some of my own recipes posted on here but I tend to just throw things together and not measure. I actually started keeping a notepad and pen in the kitchen so I can jot things down as I make them. LOL, I'll let you know what happens.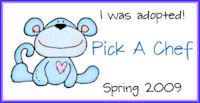 Favorite Foods
I'm pretty open to try new things. I like to challenge myself in the kitchen with ingredients I wouldn't normally choose. My all time favorite food is my mom's baked macaroni and cheese. Pork is always in my freezer. It's so versatile. I have an allergy to raw fruit which is frustrating at times but I am always looking for recipes where the fruit is cooked so I can get my servings in.

Things I LOVE:

cream cheese, asparagus, corn, potatoes, berries, shrimp, lobster, almost any type of pasta, good olive oil, homemade breads...

The things I DON'T like:

beans, yuck...keep them away (I do like green beans though. Broccoli, cauliflower, salmon, oysters, clams, pre-made marinara sauce, hot dogs, not a huge ham fan...pretty much all I can think of.