About Me
Hi! I reside in the Great Lakes area of the U.S.
I have a tiny plot of land at the fringe of the city that my wife and I like to grow various herbs, fruit and veggies as well as flowers of many kinds. We have removed all the grass in the back yard and are about halfway through the front. We grow without pesticides and get lots of bees, birds, hummingbirds and various little critters in the yard. I have four cats and three goldfish.
I have over the past few years discovered the joys of canning. I like old fashioned methods sometimes- air drying clothes, saving bacon fat, canning.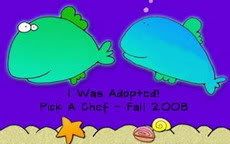 Favorite Foods
My favorites list is always growing but I especially like foods that combine sweet and spicy and hot. I like Thai and Carribean food. I also like the foods of my ancestry, my mom's side (Hungarian) and my dad's (Irish and Slovak). My wife is of Italian ancestry and I enjoy that too. I like pub food and diner food. Bacon could be a minor deity. I still like beef and potatoes dishes of course.
Cleveland has a great mix of people from different ancestries. I can pick up an apple strudel, some groceries at the Korean or Jordanian grocery, or some pierogies at the Orthodox church all within 10 blocks.
It's great to live in Cleveland if you enjoy food. There are a lot of great restaurants up here. The West Side Market is an awesome place to get meats, cheeses, bakery, fruits and veggies. If you ever come up to visit the Rock and Roll Hall of Fame try these places;
Sliman's corned beef-get there early (before 10:30 AM) and get in line for lunch.
Sokolowski's University Inn, Nate's Deli, Otto Moser's, Great Lake's brewing, Lola, Lolita, Pnomh Penh, Mama Santo's, Thai Hut, Jaipur Junction, Tommy's, Alladdin's, Hot Sauce William's, Union house (Wed, Fri fish fry), Balaton, Luchita's, Little Budapest, Dee's, Swenson's, I can go on forever...
Bakeries; Presti's, Corbo's, Colozzo's, Michael's, Rudy's, Lydia's, Myrtie's, Jack Frost Donut's.