About Me
I'm originally from Michigan but have lived in Florida for so long I find myself bundling up in a coat and hat when the temp drops below 70 and cursing myself for not having mittens when it drops below 60. I love the sun and being able to see the ocean everyday. I will do anything to be the center of attention...who wants to see me do the robot? I have a bunch of irrational fears, including but not limited to: clowns, birds (they'll peck your eyes out!), garden gnomes and leprechauns, oompa loompas, claymation, the talking baby on the Quiznos commercial, and having an alligator hide under my car in the dark and biting my leg off... Other than that I'm laid back and down to earth and try to always be optimistic and appreciate the small things in life!!

On a separate note....I have recently discovered that I adore cooking, which has become an addiction now that I have discovered this site!! This suprises me being that my idea of "cooking" prior to this epiphany was ordering out and putting it on a fancy plate :) I hope to post some recipes soon.. that is as long as I remember to measure any of the random ingredients I use!!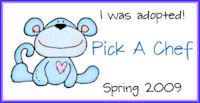 Favorite Foods
GARLIC, italian, mexican (every night would be "fiesta night" if it was up to me!!), comfort food (i.e. CARBS!!!, no Atkins Diet here :)) cheese, bread & RANCH DRESSING!!! I also have a fondness for candy and baked goods, though I won't eat them...I do have to watch my girlish figure!!
---
Over 475,000 Recipes
Food.com Network of Sites