About Me
I'm a 33-year-old writer, mother, and wife. My family includes my motorcyle-obsessed husband, Myron, my 3-year-old firecracker daughter Melody Bee, a noisy and loveable Mini-Schnauzer named Max, a fiery and protective Scottish Terrier named Sammy, and a yellow, fiesty budgie (parakeet) named Lemonhead. We're expecting a baby boy, due August 4, 2008.

I work full time in the Quality/Safety department at a hospital. When I'm not working or taking care of my family, I enjoy reading and writing fiction, yoga, gardening taking pictures, and (of course) cooking!

Most of the meals that I cook are vegetarian. I stopped eating beef, pork, and chicken at the beginning of 2007, but I sometimes cook up some meaty dishes for my husband. I don't really call myself vegetarian because I do eat dairy, fish, and eggs, yet I daily incorporate lots of vegetarian and vegan foods in my diet (and that of my family's) because most of the dishes are so healthy.

*********************************************

Recipe Ratings:

Most of the time, I can tell when a recipe will turn out well just by the blend of ingredients and the way it is prepared. But occassionally, there's a recipe that sounds great that turns out awful for me. At all times, I will give a complete review of what I changed or what I think the problem was if the recipe didn't turn out "perfect." Here's how I've been rating recipes.

***** FIVE Stars: I made the recipe without any major changes to ingredients or preparation, and it turned out perfect. If I made any changes, it was due to what I had on hand, not because the recipe was bad as is. I'd make this recipe again without a doubt. And I'd be proud to serve it to my family and friends.

**** FOUR Stars: The recipe is very good, but I needed to tweak it just ever so slightly to my liking. (This does not include recipes I change because of the ingredients I have on hand. Instead, a four-star recipe was just a little "off," but easily fixed with minor changes.) I'd probably make this again, and I'd recommend this recipe to others.

*** THREE Stars: The recipe is good, but needed many modifications to bring it to my liking. I either had to omit, substitute, or increase ingredients or something was just not right with the texture or taste.

** TWO Stars: This recipe was a real bummer both in taste and preparation. I was disappointed in the outcome and couldn't even modify the recipe enough without it becoming a whole different recipe. I wouldn't make this again, and I wouldn't recommend it to anyone.

* ONE Star: I'd be embarrassed to serve this recipe to my worst enemy. Fortunately, I haven't come across many of these recipes on this site. Chances are, there had to be something wrong with the cooking instructions for this to turn out so bad!

NO Stars: The recipe was a catastrophe. It was completely inedible and had to be thrown away before it even reached a serving plate. My dogs begged to be let outside for fresh air while this dish was cooking.

+++++++++++++++++++++++++++++++++++++++++++++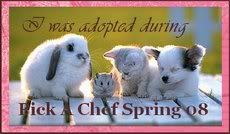 Favorite Foods
Soup soup soup!

I absolutely love all kinds of vegetarian and vegan soup. I make many soups homemade and freeze them for later. My husband isn't big on soup, especially during the warmer months, so I have it all to myself!

Pasta pasta pasta!

Another one of my weaknesses is pasta. I have several marinara and tomato/vegetable sauces that I make when I get the craving for a nice bowl of spaghetti, penne, or shells. Those recipes will be posted here soon.

Rice rice rice!

Rice is my ultimate "comfort food." I eat it plain with just a bit of salt and butter (or butter substitute) when I want something quick, easy, bland and filling. I'll eat it as risotto or simply with beans and corn mixed in with some cumin, salt, and pepper. One of the most wonderful things about rice is that there are many varieties and many ways to prepare it.

Salad salad salad!

When I'm not eating soup, pasta, or rice, I'm eating salad! To me, a great vegetarian salad can be a wonderful main course, especially during the summer when I just don't want to eat anything "heavy." I tend to use mostly dark greens (i.e. spinach, kale, red leaf lettuce) as my the base to my green salads. The toppings usually include beans, nuts, fruit (i.e. strawberries, apples, manderin oranges), and any veggies that are in season or I have a taste for at the time. I haven't yet made any of my own homemade salad dressings, but I'm hoping to find a few good ones on this site to try out!

Wine wine wine!

Well, so, it's not technically a food, but I love a good merlot or cabernet!

Favorite Spices:

Many of my recipes use fennel, basil, thyme, and/or rosemary. I love the sweet taste of fennel, and you'll often catch me just gnawing on a few seeds after a meal to freshen my breath. I could inhale the delicious scent of rosemary all day. It makes a great potpourri! I simmer a small sprig in my potpourri pot while I'm cleaning the kitchen after dinner. It sets a great mood and makes me feel refreshed!

My favorite restaurants are Mario's Portofino (in Reno, NV), Chili's, and Red Lobster.

My favorite vegetarian cookbooks are Robin Robertson's "Vegetarian Meat and Potatoes Cookbook," "The Chicago Diner Cookbook," "Vegetarian Meals for People On-the-Go" by Vimala Rodgers.