About Me
So basically, I cook two nights a week for a household of four adults including myself. Here are their dietary preferences:

Person #1) Eats no meat, but seafood ok.
Person #2) Eats no meat, seafood, eggs, cheese or fermented items.
Person #3) Dislikes veggies, ethnic foods, and dishes with a lot of sauce. No tofu (this makes feeding persons 1 and 2 very difficult). Loves meat.
Person #4) Dislikes cooked veggies (raw ok) and tofu. Dislikes onions and peppers of any kinds.

Usually I end up making a meat-n-potatoes dish one night a week to satisfy diners #3 and 4, since the no-meat rule of diners #1 and 2 is a dietary thing, not moral/ethical, so they are okay with me picking out chunks of meat from say, a stew, and replacing it with veggie meat in their plates. The other night I make something vegetarian - squash as a main dish or something with lentils and beans. As long as there's no tofu, diners #3 and 4 will eat it, albeit with little enthusiasm.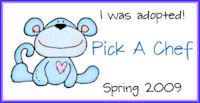 Favorite Foods
I am diner #4.

I dislike cooked onions (except in onion rings) and green peppers, cooked or not. I can occasionally tolerate the odd red pepper but I usually pick them out. I dislike tofu as a general rule but I like it in Asian dishes only.

I love Thai food and Szechuan food. I like some Indian dishes but not all. I would love to try African food, but haven't had the opportunity. I also love meat and potatoes dishes - Guinness stew, buffalo steak, sweet and sour meatballs, twice baked potatoes, etc.

I love mousses, they're so delicate and pretty.
---
Over 475,000 Recipes
Food.com Network of Sites