About Me
I LOVE to cook...it is very relaxing to me. A big THANKS to all the cooks on this web site for sharing their recipes and always giving me wonderful meals to make.

Our pugs, Norman and Otis are the biggest foodies we will ever know.

I'm another one of "those people" that read cookbooks like novels. I'm forcing myself not to buy anymore! because I don't really cook from them I just like to read them. I prefer using my cookbooks and recipes online because they take up less space and are always accessible.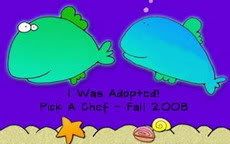 Favorite Foods
I prefer hot and spicy food. If I can, I put garlic, onions and crushed red pepper in just about everything I make.

I grew up in Southern MD on the bay...I LOVE CRABS. I used to catch em and steam em for lunch. It's all about sitting with family and friends for no less 4-6 hours, pickin meat & drinking beer. My second favorite food is Shrimp. I eat them all sorts of ways. The more Old Bay on crabs, shrimp and corn the better!

Another favorite, Italian food more specifically, Italian seafood. I fancy fine dining establishments. I rather go to a really nice place with fantastic food less often than to a mediocre chain frequently.
In conclusion, I simply love delicious food ;)