About Me
I'm a CNA at a long term care facility in Oklahoma and I really enjoy my job. I like reading, writing, baking and cooking and I'd like to learn how to crochet. I'm married and have one son who's 19 and ready to fly the coop. I have a plethora of dogs around the place who think that they are little people with fur.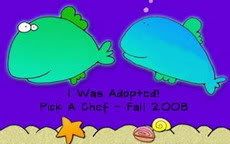 Favorite Foods
Anything with red sauce on it. I also love barbeque sauce and ketchup.

I love good pizza, but the Okie's just cannot make it. They think that properly spiced pizza sauce is "too strong". I'd have to go back up to the Chicago area to get the good stuff.

I love little hole in the wall restaurants. There's a mexican restaurant that serves the best authentic mexican food out of the tiniest building you've ever seen. The best pie in town comes from a little place downtown that you'd pass by if you didn't know it was there.
---
Over 475,000 Recipes
Food.com Network of Sites