About Me
My darling husband of 32 years passed away in July of 2011 after a long battle with cancer. It was a horrible shock, and although we thought we were dealing with it, it is now two years later, and we have discovered that we were not. I especially have not. I am learning to survive alone, and am learning to feed myself again.
I have been blessed with three wonderful sons who I am very close with. We work together, play together and share food with one another. I have two beautiful grandsons as well, and they remind me of joys from days past, future and most importantly present. And finally, there are other women in the family, I have two wonderful daughter in laws.
After a stint in a family business, I have resigned myself to the need to extricate myself and close the company. My sons need to proceed on their own - without me - so that they may truly spread their wings. What a liberating feeling - and sad at the same time.
Happy cooking everyone, I am happy to have found this place to share recipes and ideas with other people who enjoy food as much as I do.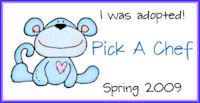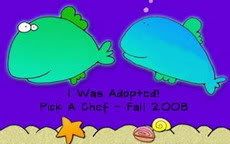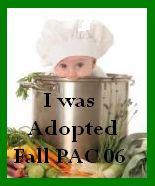 Favorite Foods
Too many favorites to list.
Love soups, broths, stews, etc. I love to bake breads and pies, anything sweet. Love to try new foods but have to be careful because hubby doesn't like certain flavors and sometimes won't eat something because of the name.
All three boys are in the process of moving out or moving on, and have asked that I "teach" them how to cook. I am compiling books of their favorites when I have a chance with the idea that they'll one day be able to cook for themselves and hopefully ask us over to dinner occasionally. My husband is dreaming of the day when he can have a meal on "their couch" for a change. We always did take our meals at the table, but when we weren't looking... I would really love to learn to make GOOD chinese food. I remember having REAL Chinese food in Vancouver's China Town when I was very young, haven't ever had close since. . .it's a kind of goal. Maybe Uncle Bill can help!!