About Me
I first discovered recipezaar when googling for some recipe that I can't even remember now. Before long I was totally addicted and still find it such a helpful resource for all sorts of things. People have really great ideas on this site, good senses of humour and, well, good recipes.
My cookbook collection has become unruly, thank goodness for this site or the shelves would literally collapse. It's corny, but I love recipes, love reading them, love collecting them and trying them. I used to say I just collected cookbooks, and wasn't all that choosey about what hit my shelves. I'm much more selective now, it's got to be veg*n or kitsch and interesting. The ones I actually use on a regular basis come from Madhur Jaffrey, Moosewood, Mollie Katzen, Sara Kramer and Isa M.
I'm vegan, but those in my world are not. I try not to spend my days as a short order cook at home, but it happens. As long as it didn't come out of a box or can, I'm pretty happy. Due to that, I have one of those kitchens where visitors say there is nothing to eat...not without preparation anyway. (Although I do have some secret stashes ;)
My garden...near the start of last summer....
My diners....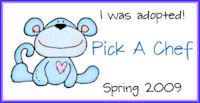 Favorite Foods
Indian, Thai, Japanese....and pretty much anything with spice or sauce. Latest and greatest cravings = tofu scramble & Asian noodles with peanut/tahini sauce.