About Me
Since I practically live on this website, my daughter thought it fitting for me to finally post a little about myself. I have so enjoyed getting to know little snip-its of the amazing cooks on this site, I feel I should join the masses and share a little about me :) I am recently retired and now have even more chances to explore new recipes and cook for my family. I have always believed in a home-cooked way of life for my family and fortunately have bestowed my joy of cooking onto my children. Although my DH is an extreme meat and potatoes kind of eater, I have managed to find opportunites here and there to explore the many facets of flavorful cooking.

I have the privilege of having my oldest living just down the street with my beautiful, bright grandson, who I bring home with me after school everyday. My father is also down the road and LOVEs enjoying my treats at least once a week. The best, though, is when my daughter- who shares this hobby and love for food with me- comes to town and we spend hours planning, searching and preparing fun new recipes.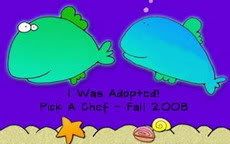 Favorite Foods
anything with vegetables is usually my first choice, when it comes to choosing for myself. some of my favorite indulgences include grilled shrimp and lobster (although I am less apt to eat lobster, considering their mating-for-life philosophy!).
---
Over 475,000 Recipes
Food.com Network of Sites