About Me
I am originally from the Pacific Northwest but was transplanted to the east coast, and now to the Lone Star State when my hubby went back to school to get his Ph.D. and later was hired at a university for his first professoral position. My husband and I are parents to two boys that we fondly refer to as "Search & Destroy." I'm a stay-at-home mom and am in the third year of homeschooling our children.

I L-O-V-E to cook and bake. Honestly, I think I pretty much always have--it is something I inherited from my mom. :) She is the one who taught me to not be afraid to make a recipe, and when I'm not sure what a term means, to look it up (or ask someone who knows to talk me through it). My friends Lisa, Sharon and Shannon have also taught me a lot too (you'll see a few recipes that I've posted that I have received from these lovely ladies). And, I'd say that my experience as a prep cook for a brew pub in college taught me quite a bit too. :)

I also like to make jam, to bake my own fresh loaves of whole wheat bread from flour that I have ground myself, and to preserve fruits and vegetables like my Grams taught me. Gardening is a new-found hobby of mine, and preparing foods with fresh fruits that I have harvested is so rewarding!

I love my Oregon Ducks and am a proud alumnae of the University of Oregon.

When we have a ladies' event at my church, I'm generally involved in the food aspect, in one way or another. The recipes I'm best-known for are my dessert recipes.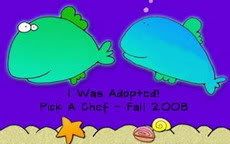 Favorite Foods
desserts - especially chocolate ones. :)
---
Over 475,000 Recipes
Food.com Network of Sites