About Me
Hi! My name is Nancy and I live in northern Virginia, about 28 miles south of Washington, D.C. I am a photo editor at a famous magazine publisher whose mission it is to "increase and diffuse Geographic knowledge." No, I don't get to travel. It's just a job, like most others out there. 9-5 and draining! Not nearly as glamorous as many imagine.

My true passions are marine biology, nature in general, and cooking. I have been cooking since I was old enough to help out Mom in the kitchen. I have always been adventurous in eating, and am willing to try anything at least once. I am always searching out new flavors, ingredients, and techniques. I love shopping in all the ethnic grocery stores that abound in this area... Vietnamese, Pakistani, Indian, Afghan, Hispanic of all sorts, Korean, Russian, German.

I would love to be able to open a small gourmet food store or deli in a beachside town. Oh my, my paradise and dream. Cook in the morning, then enjoy the beach in the evening.

It would be hard to name a favorite cookbook. I owned over 500 at one time, and have since whittled down my collection. A cookbook was always my favorite souvenir from any travels I took.
Hmmmm, I guess I would have to say my favorites are the Marlboro cookbooks. Yes, put out by the Marlboro cigarette company. No, I do not smoke, but these cookbooks are beautiful to look at, and the recipes are to die for. They consist of good old American foods, grilling, and just good times for all. These 3 books are my food porn! ;-) I enjoy Nigella Lawson's cookbooks, too. She has style, flair, and a wonderful sense of humor. If I had to pick a famous foodie to dine with it would be her. Hey, and where has Andrew Zimmern been all my life!?! That guy is almost as adventurous as me!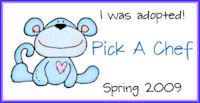 Favorite Foods
My favorite dish to cook is one that everyone will love and rave over. I live for those compliments. They truly make me feel good. Preparing good food for loved ones truly is an expression of love. I enjoy cooking everything I cook, because I love cooking. It is my escape, and my creative release.

The dish I am famous for depends on whom you ask. Dad loves my Caesar salad and French bread. Mom loves my split pea soup and toffee. My honey loves my chicken and rice. The folks at work clamor for the cookie dough truffles and any baked goods. I crave my BBQ ribs!

A favorite restaurant would be hard to name. I have gotten so frustrated with the same old stuff. It all tastes alike, and the quality is not like it used to be. "In the good old days" going out to a restaurant used to be an experience, a luxury, a treat. Now it is no different than heading to a McD's. Have you noticed in your travels, no matter where you are in this grand old nation, that the same restaurants are in every town. How boring, drab, and monolopistic! (is that a word?) We are a melting pot and all we have are Dennys, Outback, McD, Olive Garden, Subway, Quiznos, Chili's, etc. Ya know what I mean? So, in summary, a favorite, now-a-days, would have to be a mom and pop shop doing what they do best. Here in Woodbridge is a Mexican place called La Fonda Azteca. I like them. Ricos Tacos Moja makes a great burrito al pastor. And Joe's hippie rolls are to die for!

Unfortunately, for most of my life I have been fighting the Battle of the Bulge. So I don't eat out much. I do try to cook healthy most of the time. I feel I could become a vegetarian with litte trouble. I'm always on the lookout for WW or other healthy recipes on Zaar, but one look at the recipes in my public cookbooks might leave one to wonder if I'm telling a big fib! ;-)