About Me
Originally from Arizona, I live in Minnesota and "hate" the winters! This explains why I love traveling to the Caribbean. If only I could live there during the winter! I am married and we have a son and a daughter.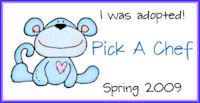 Favorite Foods
My favorite foods are vegetables. I have only met one that I haven't liked: brussel sprouts. I also "love" Mexican food, and I really chow down on it when I visit AZ. I can't find real Mexican food here to save my life!
My favorite thing to cook is anything that people will ooh and ahh over.
My most requested meal is Beef Stroganoff(which I still need to post).
Since we live in a small city we have to travel at least 45 minutes to go out to eat we don't go often, so I really don't have a favorite
restaurant.
---
Over 475,000 Recipes
Food.com Network of Sites