About Me
I'm a pretty busy gal. I've got a wonderful husband and two little girls. We share our home with wonderful dogs, two Weimaraners, a Boxer and a French Bulldog. I work full-time outside of the home and then come home to tons of hobbies, one of them being cooking.
I love baking and really want to get better at it. I'm also hoping to get more organized during dinner time so I'm not at a loss when it gets to be dinner time.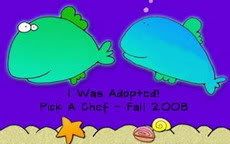 Favorite Foods
Food. I love food. It'd be easier to say I don't like most fish (although I'm working on that, can't get past the whole 'used to be swimming' thing- it's just a thing with me).

I don't really have one dish I love to cook the most. On weekdays it's anything fast and nutritious and if I can sneak in a vegetable even better. On the weekends its whatever mood we're in, which usually puts us at trying something new.
---
Over 475,000 Recipes
Food.com Network of Sites