About Me
I'm a traveling nurse, so on days that I work I don't really have time to cook, although I try to squeeze it in anyway. I really love to make dinners, desserts, etc, and I'm always trying new things. If it weren't for my picky DH, I would try almost anything! I can't complain, though, because our new routine has him doing a lot of the cooking, and recipezaar is a big help with that! I have a sweet cat named Shadow and a rambunctious Golden Retriever named Cassidy, both of whom will eat almost anything I cook... haha.

I usually only cook meals that I know my husband and I will like, so it's rare that I rate a recipe less than 4 stars after trying it. So if you wonder why I seem to only give great reviews, it's truly not because I'm just too nice to say what I really think! If I make your recipe, I have a pretty good idea that we'll love it. :) If we don't, I'll say so.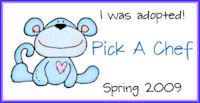 Favorite Foods
I like almost every food! I love salads, and foods with sauce. Some of the best salads: Crispers' Oriental Chicken salad with honey-lime dressing, California Pizza Kitchen's Waldorf salad, Outback Steakhouse's Bleu Chop Salad, the Sandbar's Island salad. :)

My favorite ethnic foods are Chinese and Mexican - I think I could eat either or both of these every day and NEVER get tired of them! However, I have taken a solemn vow never to attempt cooking a Chinese dish again until I take a Chinese cooking class. No matter how many recipes I've tried, take-out just ALWAYS tastes better.
---
Over 475,000 Recipes
Food.com Network of Sites