About Me
Hi, my name is Julie. This is me and my twin sister Lauren, taken in 2008. I'm the one on your left, I think!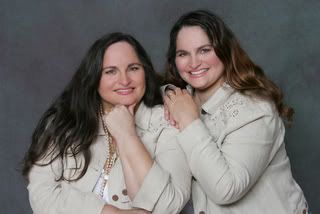 I love to cook. If I'm not at work, I'm either washing dishes, cooking, playing with this site, playing the piano, or washing dishes... Cooking does have it's downside! My sister has finally decided she likes to cook too, hence her Zaar name changing from Need Help, Can't Cook! to Laurenpie.

I learned how to cook from my mom, who was famous for her molasses cookies and her pies. I've had the recipe for berry cobbler memorized since I was a kid, and that recipe is one of my favorite childhood memories. My grandma, who was born back in the 1890s, didn't measure anything. We were taught to add sugar until you are embarrassed and then add a little more. My embarrassment level must be higher than hers 'cause my cobbler is on the tart side!

As far as pet peeves go, I don't like it when the ingredients of a recipe aren't in the same order that the directions call for. Well, okay, I have two ... did I mention something about doing dishes?
My favorite bible verse: Psalm 107:9
For He has satisfied the thirsty soul, and the hungry soul He has filled with what is good.





Favorite Foods
Carbs, unfortunately... I love fresh vegetable dishes. My husband only likes frozen vegetables. (That reminds me of a nursery rhyme!) Anyway, I finally figured out after all these years that I should just cook the vegetable that I want as well as making him his peas or corn. That way we're both happy!

My favorite of the recipes I have posted would be my stuffed pattipan squash, but the one I eat the most is my cereal, recipe #398169.

My favorite Zaar chefs are chef #24386, chef #133174 and chef #89831. You can't go wrong with any of their dishes!