About Me
I live on one side of the Kansas City Metro area and work on the other. My husband of two years is a full time Pharmacy Technician and full time Pharmacy school student. We love to cook at home. And eat out too of course.. ;)

With all our busy days and nights we were looking to save time and money and discovered OAMC here on Recipezaar. We are relative newcomers to OAMC, we've been doing it for about 5 months now and have really relied on the contributions of other 'Zaar members for ideas and recipes.

Of course, the other result of hectic lives is expanding waistlines, so we have both joined weight watchers recently with the goal of losing about 20 pounds each and maintaining a healthy weight.

We have two other mouths to feed here, our 2 year old deaf Dalmation mix, Derby- who is featured in my icon, and our 10 year old cat Echo. Both enjoy eating almost as much as we do, but mainly get kibble. I work as an office manager in a busy vet clinic and want everyone to know that onions, raisins, grapes and chocolate are very toxic to dogs! Even if you are feeding only small amounts on a regular basis and don't see any immediate effects you may be taking years off your pet's life.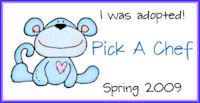 Favorite Foods
I love spicy! Mexican and Asian foods especially. I also love cheeses of all kinds.

My favorite 'Zaar recipe is Creamy Burrito Casserole #33919! You have to try it. I don't post too many recipes here, mainly those that I find in cookbooks and want to add to my shopping list feature so I need to get around to adding more one of these days!

I love a good burger- made with high quality fresh beef and cooked medium rare... yum! Somewhere my mother-in-law's food safety spidey sense is tingling...

I love fresh, flavorful ingredients... but also have a soft spot for some overly processed items.. If you've never whipped up some SPAM fried rice you don't know what you're missing!

My favorite TV chef is Alton Brown- he singlehandedly saved my family's Thanksgiving with his episode on brining turkey! We have made many of his dishes- guacamole, beet green casserole, banannas brulee are some of our favorites.

I love food. The End.
---
Over 475,000 Recipes
Food.com Network of Sites