About Me
Well, I live on the beautiful island of Puerto Rico. I am not Puerto Rican, but I have been living here for about 7 years, which is long enough to make me thoroughly confused as to what my own culture is. My husband is actually not Puerto Rican but half Costa Rican, so now our family is even more culture shocked. We make the most of it.

Passions? Hobbies? It's hard to chose which ranks over the other, so I will say it is a tie, but cooking/baking and photography are at the top of my "hobbies" list. It's funny because I never went to school for either, which many are surprised to learn that, since my dedication to both hobbies as yeilded some pretty cool results. Amazing what you can learn from books!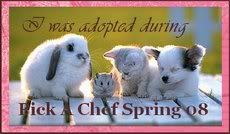 Favorite Foods
I love to bake. Cheesecakes are really fun. I would like to learn how to do more bread baking. I also like to dabble in cake decorating, dealing more with fondant and modeling paste than with buttercream.

I love to experiement with food, trying them in ways that I haven't tried before. Many vegetables that I used to hate I now love due to a simple change in preperation (peanut butter and sweet potatoes? Who knew it'd be a winning combination!) I try anything once, and believe in second chances.
---
Over 475,000 Recipes
Food.com Network of Sites