About Me
I am Serbian and Hungarian - Yeah, i know volcanic combination, guess that means I'm a good cook/baker with a hot temper! Was taught to cook by my grandmother and mom (the best cooks in the world in my opinion) Have a collection of very very old recipes given to me by my great grandmother and grandmother BUT as most of you know, they don't measure! It took me a long time to decipher what a pinch or abit of this and that actually means. But when i finally did, I wrote them to English (oh yeah, to complicate matters, they were in a combination of Serbian/Hungarian!) But I love keeping the old traditions of my family alive through food, my kitchen is a warm and happy place.

As you can tell, I'm very proud of my heritage. Love the food, the smells and tastes and love trying new things. I always make a recipe as per the instructions the first time and then tweak it to my tastebuds. I've never come across a recipe that is "perfect" not even mine.

My project this summer is to translate 3 very very old cook books that belonged to my grandmother and her sister and then there's one from my great grandmother.

My fondest memory was my grandma wrapping one of her old aprons around my small waist and having me kneel on a chair at the kitchen table and we would make friars ears but they called them differently in hungarian. (oh, now I have to find that recipe and post it) and she would always call me sunshine :)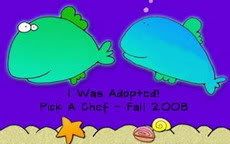 Favorite Foods
Like there's bad food!?

I'm known for my version of seafood paella. I make it every New Year's Eve and it's become a tradition. My sister always makes sure to ask if I'm making it.

What I think people should do before they rate any recipe is this; if something wasn't right, don't rate it on the first try. Recipes should always be made twice, remember, just because you've added the right amount of this seasoning or that seasoning, everyone has their own preference and adjustments should be made to your taste.
---
Over 475,000 Recipes
Food.com Network of Sites